Early Childhood Music Education
Do you want to enable your child to build a wonderful relationship with music from the very beginning?
Then our early childhood music workshops are just right for you and your child. The workshops are tailored to your child's developmental stage and thus provide a low-threshold approach to making music.
Baby Music Garden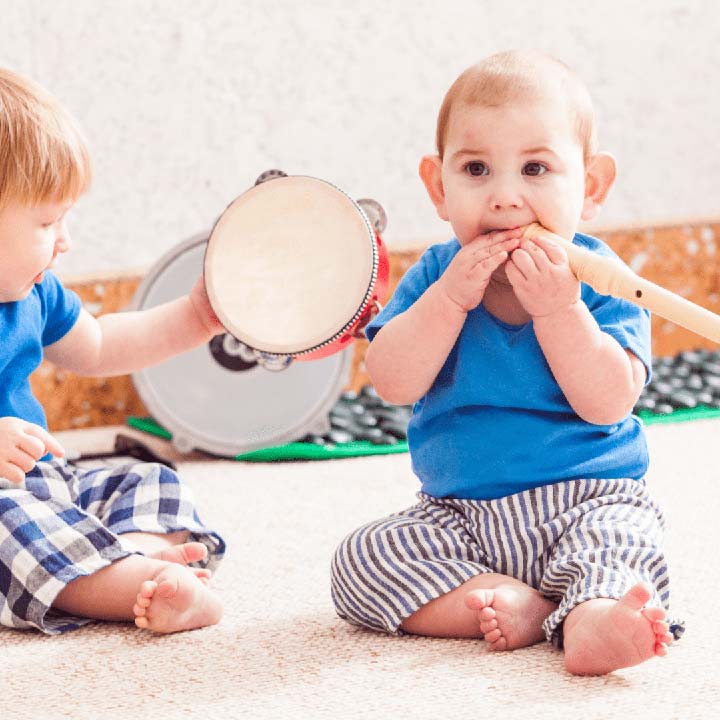 3 - 15 months
every Wednesday 09.30h - 10.15h
What is the workshop about?
Feeling secure with slow dances. Encouraging language through singing together and learning baby sign language. All this strengthens your child's basic trust and thus also your unique bond.

The earlier your child can communicate, the more self-confident it will be when it starts life! Did you know that babies begin to imitate the first signs as early as 6 months? The first sign is usually "milk". Through simple melodies you will learn the most important signs in no time. Believe me, your baby and all the people you care for will thank you!

With fine silk scarves, natural tonewoods and colourful shaker eggs our little ones learn to know and love the world of music. Without any expectation of performance.

Finger and movement games, knee riders and light dances help your baby discover its body and learn new movements through play. Clapping for the first time, swaying to the beat or sweetly hopping up and down to the music is fun for babies and parents alike.

Mummy, Daddy or No? What will be your baby's first word? And what is the most important thing in language learning? Repetition! Add melody, movement and a big pinch of fun and we have the perfect recipe for early language development.
Music Playgroup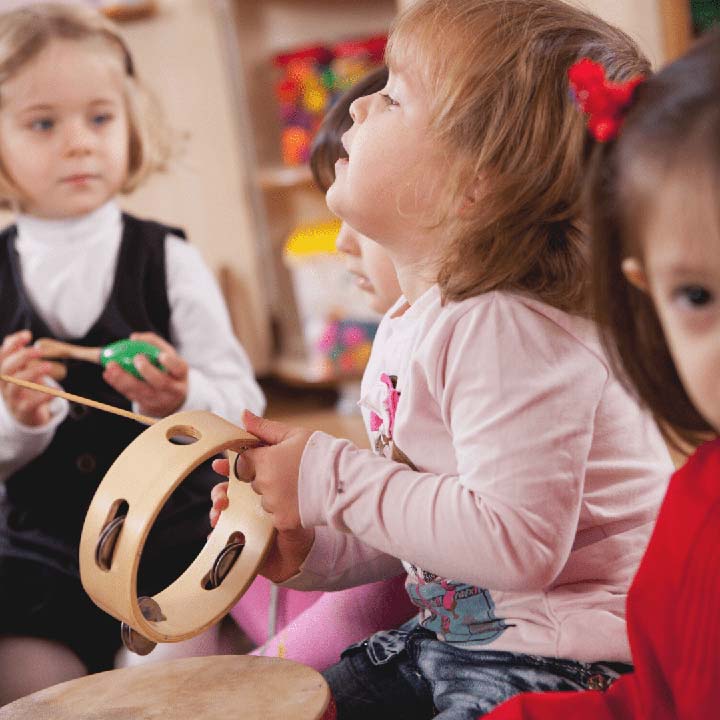 1.5 - 4 years
every Wednesday 10.30h - 11.15h
What is the workshop about?
What could be cuter than watching a toddler swing its hips to music? Whether it's a stop dance, body parts Blues or cloth Waltz. Fun is guaranteed here! Of course, you can also "pack" the game ideas, songs and movement suggestions for home!

Music as a bridge to emotional balance. Naming feelings and dealing with them has to be learned. Let's help our children express themselves through voice and dance. All age groups can benefit from this.

Discover what it means to "keep time" with percussion instruments such as timbrels, maracas or drums. Sounding instruments such as bells or xylophones enable the first steps into the world of sounds.

Slow drum beats harmonize best with leisurely steps. Suddenly the drumming gets louder and faster and the children join in. And then... Everyone stops and listens to see what rhythm is coming next.

"This is high and this is low" the children sing as they first stretch their hands high in the air and then quickly bring them to the ground. Words, movement, music and play. Sensorimotor skills are the magic word here.
Music Kindergarden
4 - 7 years
every Wednesday 14.00h - 15.00h
What is the workshop about?
We give free rein to our own creative movements or rehearse simple dance choreographies together. Movement is also essential in this group. By the way, the Carnival of the Animals is very popular with this age group!

Learn seasons, animals and other basic knowledge in a playful way. "Old MacDonald's Farm" and Schleich animals are the perfect combination for remembering animal names and sounds. Silk scarves as colourful leaves in autumn or icy snowballs in winter not only strengthen vocabulary but also inspire your child's imagination.

When you play music together, you have to learn to play in harmony. Your child will learn to harmonize with other children in a safe, playful environment.

A boy sits in the middle, holds a blue silk scarf in the air and counts in: 1,2,3,4! The mini-musicians around him know exactly what this means. We now play quietly and slowly! Now the little conductor switches to the red cloth. The music suddenly becomes louder and faster!

Sounding woods, bells, drums, various percussion instruments and the first approach to a real piano or drum set! The world of instruments is as versatile as your child's imagination. Are you curious to see which instrument fascinates your child the most?
Who leads the workshops?
We are fortunate to have Janine with us - a workshop leader with a great deal of experience in the field of early childhood music education. She is characterised by her loving and patient nature and provides exciting workshops with playful ideas. Find out more about Janine.
Parental accompaniment
The Baby Music Garden and the Music Playgroup take place in the company of a parent. At the Music Kindergarden, parents are invited to make themselves comfortable in the lounge so that the children can make music independently.
Dates
The early childhood music education workshops take place every Wednesday. The "Baby Music Garden" starts at 09.30h and lasts 45 minutes. The "Music Playgroup" starts at 10.30h and lasts 45 minutes. The "Music Kindergarden" starts at 14.00h and lasts 60 minutes.
Workshop fees
The first time you come you can try it out for free and without obligation. Afterwards you can register your child for the quarterly membership. The workshop fees are as follows:
Baby Music Garden & Music Playgroup
CHF 319.- in the 1st, 2nd und 4th quarter
CHF 232.- in the 3rd quarter
Music Kindergarden
CHF 385.- in the 1st, 2nd und 4th quarter
CHF 280.- in the 3rd quarter
Trial workshop contact form
Book a trial workshop right here without any commitment. Book your trial workshop in an easy and fast way by filling out the form below or just call us at +41 61 331 75 75. A trial workshop lasts 45 or 60 minutes and is free of charge.